Traditional Native American Recordings - Lakota Ceremonial Pipe Songs (Cannunpa Wakan Olowan) featuring Joseph Flying Bye, respected spiritual leader and holy man (wakan wicasa) of the Hunkpapa Lakota tribe
Joseph Flying Bye's most recent release, Putting the Moccasins Back On – Walking the Red Road to Another Life, is his third recording in the series of Lakota ceremonial songs and traditional Lakota teachings. In this recording, the 83 year old medicine man begins by singing a spirit calling song to bring in his direct ancestor, Flying Running, also known as Wi Ihanble (Sun Dreamer). Wi Ihanble was a well known holy man and sundance leader of the Hunkpapa nation many generations ago, often mentioned by the medicine men interviewed by Frances Densmore in the early 1900's. Joseph Flying Bye opens up his voice to let his grandfather speak through him, and to share two of the opening songs of the sundance ceremony (Wiwanyang Wacipi) which are sung each morning, just as the sun is coming up at the horizon, bringing the first light into the world. In this recording, Joseph Flying Bye speaks in Lakota for his grandfather and then translates in English. Song lyrics included in both Lakota and English in the CD liner notes.
Track Listing
1. Introduction
2. Opening Words in Lakota
3. Spirit Calling Song
4. Lakota Teachings
5. English Interpretation
6. Sundance Songs - Wi-wanyang Wacipi Olowan
7. Anpa Wi Wan Miye Yelo (I Am the Morning Sun)
8. English Interpretation
9. Maka Iyojanjan (Lights the Earth)
10. Interpretation II
11.Prayer and Closing
Lakota Ceremonial Pipe Songs for Future Generations
Joseph Flying Bye - The Night is Sacred Lakota / Sioux culture, history, and spirituality in the songs and words of a respected 83 year old Native American elder and traditional Lakota holy man (1917-2000) from the Standing Rock Reservation. When asked what he would like his great grandchildren to know about many years from now, Joseph Flying Bye replied, "They need to know about the sacred pipe. Why we pray with the pipe. The meaning of the songs and words. What they need to learn, and know, and do."

Experience sitting with a Lakota elder for an evening and listen to the teachings he would like the future generations to know. Joseph Flying Bye's first recording contains five traditional songs of the Lakota ceremonial sacred pipe, along with background teachings to better understand the songs and ceremony. Teachings include his telling of the coming of the pipe to the Lakota people and traditional ceremonies that include the filling of the pipe. Spoken in both his native Lakota language and English. The liner notes also include lyrics in both Lakota and English to help with learning the songs. Total time is 48 minutes.


Track Listing
Sacred People are Coming To See You (song)

Interpretation and Background

Pipe Filling Song (song)

Interpretation

Spotted Eagle Song (song)

Interpretation

Behold These are Sacred (song)

Prayer

Grandfather Come to See Me (song)

Prayer and Closing Comment
Click Here For Order Information (free shipping through December 31, 2014)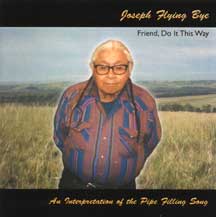 An Interpretation of the Pipe Filling Song
Joseph Flying Bye - Friend, Do It This Way

What teachings are kept within a traditional Lakota ceremonial song?
On his second recording, Joseph Flying Bye discusses in depth the meanings and teachings behind the Pipe Filling Song. Many people only sing the first verse, but Joseph Flying Bye wanted to pass on the other three verses as he had learned them from a Grandmother during an extended stay on the Pine Ridge Reservation many years ago.

Based on his life experiences and ancestors' teachings, Joseph Flying Bye raises his voice to the upcoming generations to encourage them to follow the good red road of the Buffalo Calf Woman and the ways of a pipe carrier in the traditional Lakota life. This recording also contains an Honoring Song that can be used to acknowledge community members for their contributions. Spoken in both Lakota and English. The liner notes also include lyrics in Lakota and English. Total time is 53 minutes


Track Listing
Introduction - The Great Day

Remembering Who is Greater Above

Pipe Filling Song

Interpretation and Teachings

Honoring Song

Interpretation and Closing
Click Here For Order Information (free shipping through December 31, 2014)
Who was Joseph Flying Bye?
Joseph Flying Bye - Kangi Hotanka (Crow with a Loud Voice) was a pejuta wicasa (medicine man), akicita (decorated war veteran), and wakan wicasa (holy man) from the Hunkpapa tribe of the Lakota / Sioux Nation on the Standing Rock Reservation, better known for the leaders of the late 1890's such as Sitting Bull, Gall and American Horse.

Joe Flying Bye spent much of his early years helping his blind grandfather prepare medicines and pray over sick people. He would often lead his grandfather into town and listen to the old men talk of battles and life on the open plains. His grandmother would also tell him creation stories at night and in these ways he became a keeper of traditional knowledge and culture.

Many of the spiritual leaders on the Standing Rock, Cheyenne River, and Lower Brule reservations today have received instruction from him.

On June 22, 2000 Joe Flying Bye passed into the spirit world. He will be dearly remembered by his family, friends and Lakota people.




Kangi Ho Tanka 1917-2000
The Sacred Pipe

Flying Bye shares memories of his youth, helping the elders of that time perform ceremonies as they had learned from their grandfathers. At this time there are only a few elders who can see that far back into the past. The purpose of these recordings is to pass on what we currently know of that past and where we stand with these ways at this time. In this way, we can help the future generations hear an elder from those early times speak and pray.

The ceremonial songs contained in these recordings are considered sacred to the Lakota nation. Please treat them with honor and respect, and they will lead you to a place of peace and understanding. In troubled times they will bring you strength and comfort. They are a gift from the grandparents before us.

Remember to live a good life, and do good things with each day that you are given. Help each other and encourage each other to be good people.

We all play a part in what the future will be for the next generation. They will remember the things that they saw us do while we were with them and they will look at the path that we left behind for them to follow. Use your lifetime to leave a beautiful trail behind you.

At this time we are expecting to produce at least five different recordings total. Please check back periodically for release dates. Your purchases will help to keep our project alive.


Pilamaya yelo

(Thank you)

How To Order

Audio Sample

Guest Book

Links



All photographs and graphics on this site copyright 1999-2015 Center Records



Like us on Facebook